Don Davis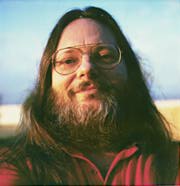 Don lives in southern California and his paintings are embued with his fascination with astronomy, the inter-galactic cosmos, and the possibilities of space travel. He is one of the featured artists in Iasos' video program "Crystal Vista". Don is considered one of the foremost artists of astronomical art, and he in fact served as a consultant for the galaxy scenes in the movie Contact. Prints of his work are sold on-line by Novagraphics Space Art Gallery. One of the interesting pages on Don's own website, where you can also see some nice and very LARGE images, is "Public Domain Works Done for NASA".
Novagraphics Space Art Gallery
"Don Davis, 44, got his start in space art working at the U.S. Geological Survey doing the first Lunar maps while still a teenager. Few are capable of the detail and accuracy needed for planetary mapping, but Don's maps are accurate enough to target spacecraft by. His attention to detail is legendary even among like-minded artists. He won an EMMY award for his ground-breaking work in the classic PBS series COSMOS, and also worked on PBS' Planet Earth and Space Age series. His work is seen in TIME-LIFE BOOKS, SMITHSONIAN, NATURAL HISTORY magazines and OMNI to name a few. His filmwork and animation for NASA'a Jet Propulsion Lab include Voyager and Galileo flyby sequences. He frequently illustrates books and articles by Carl Sagan, and he also collaborates with Sagan for his essays in Sunday PARADE magazine."
Representative Images
by
Don Davis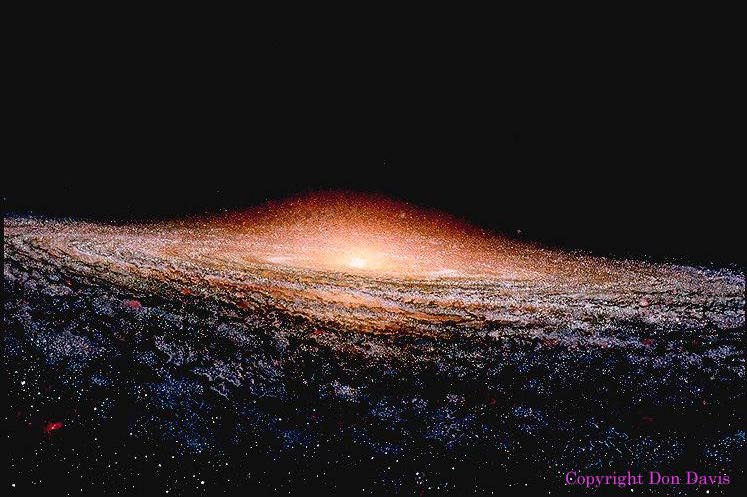 "Milky Way Overview"
by Don Davis
© Don Davis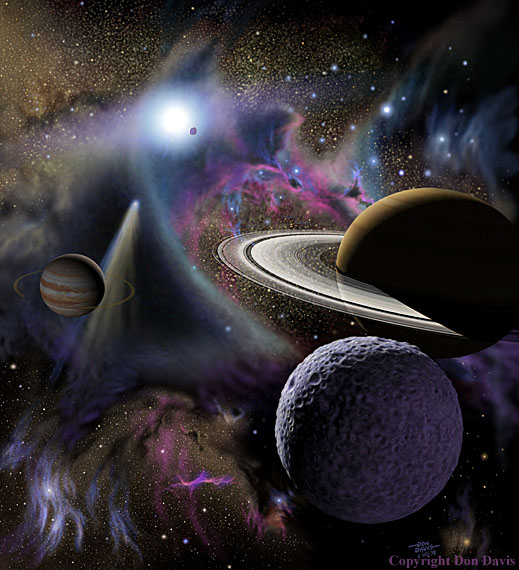 "The New Solar System"
by Don Davis
© Don Davis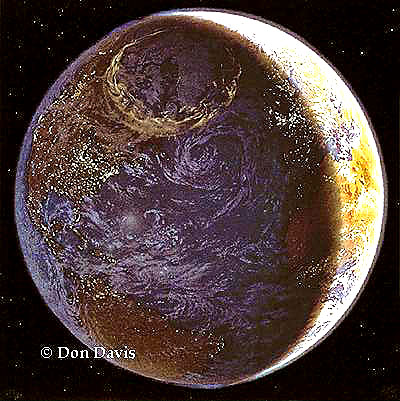 "A Portrait of Home"
by Don Davis
© Don Davis
Commentary by the artist: "This painting shows our home planet on a moonlit night in October. Astronauts say the range of brightness seen here is easily visible to the eye, but not to the camera, making this view impossible to photograph. From space mankind supplies city lights as well as flares from oil wells. Natural phenomena include lightning, and the northern lights (in a ring around the magnetic pole."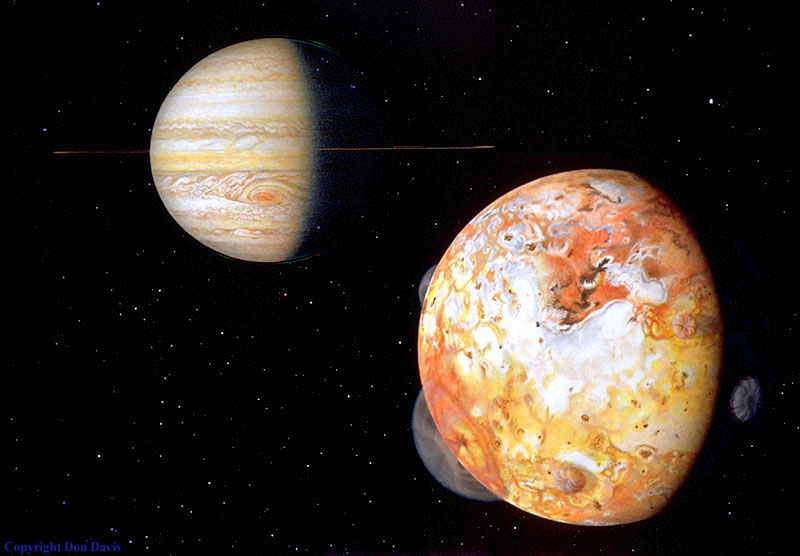 by Don Davis
© Don Davis
Commentary by the artist: "A series of paintings were commissioned by Charles Kolhase of the Jet Propulsion Laboratory (JPL) depicting highlights of each of the 4 Voyager outer planet encounters. Io and it's volcanoes passes near Jupiter in a view actually seen by the spacecraft. Computer generated line drawings of the planets and stars were supplied to insure accuracy. Io is colored as it appeared in preliminary color balancing attempts, it is actually close to the color of powdered sulfur. Oil on illustration board for JPL."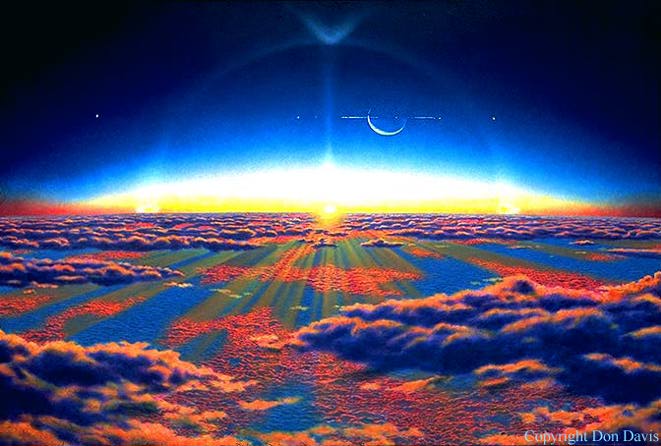 "Cruising over Titan"
by Don Davis
© Don Davis


All Rights to these images are of course Reserved by the Artist.
by many of the contemporary
Masters of Visionary Art

available for purchase
| | | |
| --- | --- | --- |
| | For your Palace | |
Web Site: iasos.com
Email:
Phone: +1 415-479-0700

Inter-Dimensional Music
California, Earth
Sol, Mlky Way Galaxy