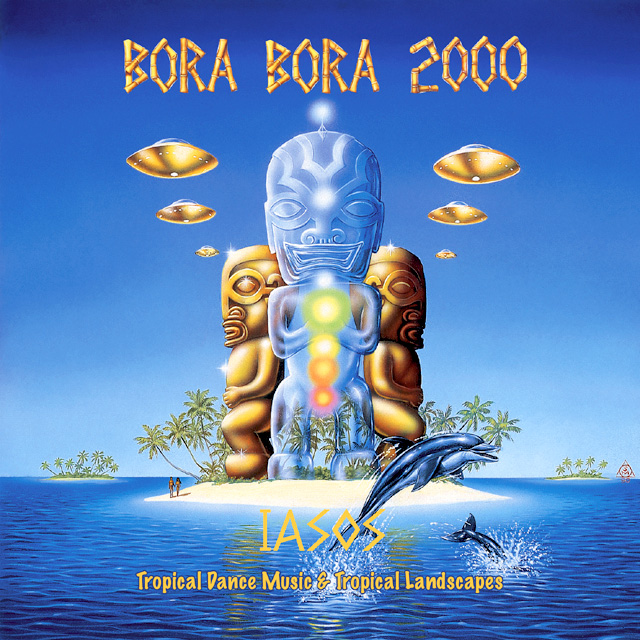 Cover Image by Sergio Macedo of Moorea, Tahiti



Description
Hi-Energy, Happy, Tropical Dance-Music!
This album was 3 and a half years in the making and is an album of tropical dance music, offered as a concentrated burst of "fun energy" and dedicated to the spirit of "fun". The 6 dance pieces are designed to be highly danceable, emotionally very happy, and tropically flavored. The dance pieces incorporate rhythms from many parts of the world - including Tahitian, Cuban, Brazilian, and African. Dancing to this tends to induce "body happiness". Iasos likes to think of this type of music as Tiki Rock . This is hi-energy happy dance music! (Rather than coffee, this is a great way to jump-start your metabolism, when you first wake up.)
To complement the 6 dance pieces, there are also 4 tropical landscapes - musical sketches of the tropics - that are, in contrast, very calming and relaxing - just like in the tropics.
The over-all album makes for enthusiastically-playful party music.
Actually going to Bora Bora?
If you are planning on actually going to this island paradise, then you might want to check out the website of my French friends Alain & Linda, who have been living there for over 35 years.
I think you would enjoy this as a good "starting point"
for "planning out" your experiences while on Bora Bora.
Their 2 websites are:

Let's Hear it!
A Collage
of audio glimpses of all the songs on Iasos'
BORA BORA 2000 music album.
(quick overview)

Listen
14:11

Liner Notes
We call this Tiki Rock - tropical dance music: very happy, high-energy dance music flavored with the South Pacific. This multi-cultural blend includes rhythms from Africa, the Caribbean, Brazil, and Polynesia, as well as rhythms not native to any part of this world. For contrast, the 6 dance cuts are complemented with 4 tropical soundscapes capturing the serene sensual beauty of the Polynesia islands. There is a wide assortment of percussion instruments used - ranging from the to-ere slit drums of Tahiti all the way to highly imaginative custom-created exotic electronic percussion.
The Benefits of Rhythm
Rhythm provides nourishment. Here's how: Rhythm is an "energy-pump" through time. The pulsing sound waves of the rhythm set up a resonance with the physical body of the listener. When the two are pulsing together, we call this "dancing". And through this sound-body resonance (the two of them vibrating together) energy can be transferred. Thereby rhythm can pump energy into the body, vitalizing your physical body and consequently raising your spirits as well.
This album is offered as a concentrated burst of FUN ENERGY and is dedicated to the Spirit of Fun. A vacation in the tropics!
| | | |
| --- | --- | --- |
| 1. Fire Dance | 5:01 | DANCE music |
| 2. Splash Happy | 4:14 | DANCE music |
| 3. Bora Bora Bounce | 6:55 | DANCE music |
| 4. Tahiti Sunset | 10:08 | Relaxed Tropical Landscape |
| 5. Lagoon Waves | 0:49 | Nature sounds |
| 6. Ulura Lagoon | 5:22 | Relaxed Tropical Landscape |
| 7. Masai | 6:09 | DANCE music |
| 8. Bamboo Grove Samba | 4:26 | DANCE music |
| 9. Coconut Talk | 4:50 | DANCE music |
| 10. Soft Beach | 3:29 | Relaxed Tropical Landscape |
| 11. Night Wind | 8:21 | Relaxed Tropical Landscape |
Other benefits of rhythmic music:
Repressing emotions tends to cause those energies to become "stuck" in a particular part of the physical body. Dancing to rhythmic music tends to release this stuck energy, thereby facilitating unobstructed energy flow throughout your whole system, subjectively experienced as greater well-being and just "feeling good".
Why Fun?
Your entire Being thrives when you are in a state of "fun". Fun does not have to be a rare "treat". It can be an on-going way of life - a state of mind - a state of Being - an attitude towards life. Fun promotes stress-release and an open receptive state of mind. And, rather than being a distraction to spiritual growth, fun facilitates it. In fact, to paraphrase Bashar, fun and excitement are the result of being energetically aligned with your Higher Self.
The TROPICAL DANCE PIECES
These 6 dance pieces are designed to be very happy, highly danceable, and tropically-flavored. Together, these qualities tend to induce body-happiness.
INTERESTED IN DANCING ONLY?
Program your CD player to repeat selections: 1, 2, 3, 7, 8, 9
INTERESTED IN DANCING with an OCCASIONAL SLOW PIECE?
Program your CD player to repeat selections: 1, 2, 3, 6, 7, 8, 9, 10
NOTE: Although high-energy dance music can be ecstatic for those in a high-energy state or a near-high-energy state, be aware that it can also be very uncomfortable for those in a low-energy state, since the energy difference is greater than they can bridge. Thank you for also keeping this in mind, while playing this music.
The TROPICAL LANDSCAPES - musical sketches of the tropics
4. Tahiti Sunset 10:08 The slow-motion elegance and the perpetual calm of a Tahitian sunset, over waters of glassy stillness.
6. Ulura Lagoon 5:22 The magic and sensual beauty of a tropical lagoon.
10. Soft Beach 3:29 A relaxed late-morning sunny beach, with small gentle waves rippling slowly onto the soft white sand.
11. Night Wind 8:21 The warm humid tropics at night, with the sound of the subtle wind, gently passing through the palm trees.
Enjoy!
Love, Iasos
All composing, arranging, instrument-playing, recording, mixing, and mastering by Iasos.

Cover image by Sergio Macedo of Moorea.
Inside cover tropical image by Faye Schoolcraft
Tropical photo of palm tree by Iasos
Concept for the title "Bora Bora 2000" by Tautu Tauotaha of Bora Bora and Moorea

Related Videos
Watch Iasos performing on 2 keyboards
to one of the dance pieces on this album.

"Splash Happy"
4:03
A friend - Leonardo Borges - created a
music video to another one of the
dance pieces on this album.

"Fire Dance"
5:05
A Collage
or audio glimpse of all the songs on Iasos'
BORA BORA 2000 music album.
(quick overview)

Listen
14:11

Get the Cassette
of "Bora Bora 2000"

Reviews
* LEE UNDERWOOD who is the
WINNER OF THE 1991 CRYSTAL AWARD FOR MUSIC JOURNALISM, and a
WRITER for the following magazines::
BODY MIND SPIRIT
NEW REALITIES
PULSE MAGAZINE (TOWER RECORDS)
NEW AGE RETAILER
"'Bora Bora 2000' features irresistible rhythms that immediately set the feet a-tapping and the body swaying, conjuring gorgeous aural- visual images of Tahiti, Hawaii, Fiji, and similar Paciific island paradises. Bora Bora's spirit of healthy, exuberant happiness moves the feet, passes up through the body and infuses the entire body/mind/spirit complex with joyous spiritual light -- rhythmic music with sensuous beauty and powerful positive energy. 'Bora Bora 2000' is pure fun - a fun-filled dancefest, in which the joyful spirit of higher-consciousness reaches us through happy, healthy body rhythms."
* HEARTBEATS Catalog , Spring 1992, from BACKROADS Distributing:
"Dedicated to the 'Spirit of Fun', this collection of island rhythms will bring a smile to your face and get you out of your chair. Infectiously happy , the six dance tracks bounce and jump with delight. ... With the release of 'BORA BORA 2000', Iasos proves he is equally skilled at creating musical delights for the body as he is at providing celestial journeys for the spirit."
* HEARTSONG REVIEW (March 1992) by BEN KETTLEWELL:
"Some of the most high energy dance music you'll ever experience. Iasos intends these songs to create 'body happiness' through dancing and succeeds admirably. ... I think this is the best recording Iasos has produced. I highly recommend it for dancing, movement, working, driving, and by all means don't be afraid to turn up the volume."
Also, in a private letter to Iasos, Ben wrote: "We LOVED IT !!!! You've really outdone yourself on this one, it is incredible."
* MUZIEK EN BEELD Info MAGAZINE (Music & Picture Info magazine) (a trade journal for the music industry in Holland)
"Well, you can certainly dance to this catching album....Iasos, a synthesizer-wizard."
(translated from Dutch)
* PANACEA (glossy health magazine in Holland)
"With his 'celestial music', Iasos inspired a whole generation of musicians. As transparent and spherical as his music has been so far, equally down to earth, rhythmic and direct is 'BORA BORA 2000' ... - Happy, highly danceable and tropically flavored." (May/June 1992)
(translated from Dutch)
* EXTRA (Belgian magazine)
"Rhythmic sounds or dance music I suppose is to make you move. Some listeners may reject this music and call it simple music for hash smokers. But we don't because we are fascinated by his music." (Summer 1992) (translated from Belgian)
* MUSIC RETAILING (Sept. 29, 1992) by DON FLUCKINGER
"Light, airy synth-dance music that's designed to move the feet and would certainly perk up any room"
* BETTER WORLD (Magazine of Self-Improvement & Environmental Awareness)
(Nov. 1992 issue) by BRUCE FINN
"It's a CD that is high energy and helps one tap into the emotion of happiness. As you listen to this super-charged music, it is hard not to get up and put on your dancing shoes. ... The beat of the songs pierces the shell of a hard day, strips you of your sadness and, like a laser, hits you right in the heart. The heart glows as the beat and the rest of the sounds are pumped throughout your body. Your head starts stirring, then your feet start moving. It could very well end up in a joyful dance. Close your eyes, let go, and feel yourself move to a tropical paradise. Iasos has created some quiet time too with his tropical landscape pieces. My favorite is 'Soft Beach'. The music sounds like the rippling of waves - quiet and relaxing. 'BORA BORA 2000' is a tropical vacation you take for the price of a CD."
* JEUDI SOIR (Belgian newspaper) by PASCAL RIVIERE
"Iasos is one of the pioneers of alternative music. His style combines the richness of traditional symphonic music with the creative flexibility of electronic music. In 1990 he received the "CRYSTAL AWARD" as recognition for his work. The origin of this album began in 1987. At that time Iasos decided to create some tropical dance music. His objective was that the music would be very happy, very rhythmic so that it could be easily danceable, and esthetically pleasant, and marked with tropical flavors. After 3 years of research and effort, the composer saw the completion of his project. He abundantly attained his goals. It's up to you to savor this musical cocktail. (May 1993) (translated from French)

Unsolicited Customer Feedback
Today I was listening to Bora Bora 2000 while commuting home on the railroad. I could not sit still in my seat. My head was moving constantly. The music was not only uplifting, but helped me imagine a warm tropical scenario in the midst of this cold winter in New York.
C.F.
---
Well, we have been listening to Bora Bora 2000 ever since it's arrival, interspaced with listenings of Realms of Light over and over and over.... we love it! LOVE it! Splash Happy really gets to me, in a real fun groo-ooove way. I enjoy that one a lot! My friend ..... here insists you are one of the best musicians EVER because your music is always so happy! We both agree that Bora Bora is dolphin music; or seal music...it really does keep the energy light and fun!
Although I have to relate something that happened to me when I heard the track Tahiti Sunset! It was so beautiful I was crying. And then I felt myself lifted out of my everyday being/body/existence, visiting another dimension where there were creatures, energy beings that looked like golden hearts! It was a large, flat plain like a vast desert with highflying clouds above. There was a light wind and these energy spirits were like made of pure peace - it was very sublime being in their presence! It was extremely strange- I felt like I'd been there before. And then the heart-beings showed me that it was like a dimensional offshoot, a realm very close to Finias, the Faery City of the South, and that this city is one way to get to this dimension, because they are intersected and very close together in the layers of time/space/realms. I wanted to share this with you because your music has always given me great visions and experiences and this was the most recent! I cannot now listen to Tahiti Sunset WITHOUT feeling a strange lassitude go over me and a part of my spirit VIBRATE with those beings. All in all, quite a remarkable effect that your music has had in my life. Thank you yet again!
S.D.C.
---
BORA BORA 2000 is very uplifting and a lot of fun!
B.D.
---
Many thanks for Bora Bora. I don't mean to sound trite, but I find it IS a lot of fun! I find playing it definitely uplifts my mood.
J.M.
---
Even if you normally don't have rhythm, the moment you start listeneing to IASOS's Bora Bora 2000 cd you won't be able to sit still! IASOS has created music that will make you happy and energized. What a great way to be!
(anonymous review submitted to Amazon.com)
---
Iasos! What a weekend! I was in Heaven! And Bora Bora !!! You made me smile, Iasos. I send you much love. The cds both play perfectly. I even shared one with a friend yesterday. He was totally blissed out. I think even the plants in the room were blissed out! It was the 10-minute+ "Tahiti Sunset" that really got me. Wave after wave of music, weaving an invisible wrap around me, comforting me, comforting. . .And your spirit was all over the room.
P.S.
---
I'm definitely going to add it to my workout playlist.
F.B.
---
your Bora Bora 2000 recording was one of the most unique pieces of music that I've ever heard.
C.S.
---
Bora Bora 2000 is beautiful
iasos
I just listened to samples of your Bora Bora 2000 cd.
I just would like to let you know here how great this cd is.
Of course, I'm a devoted fan, inspired by your work, but I wanted to simply let you know that this album brings happiness, and a true proof of the higher power and journey that music bring.
Soon I'll know, following your steps, I'll reach such places in my own music!
All the very best to you
C.G.
---
As much as i've enjoyed my personal excursions through Exotica, Iasos is, for me, the modern Exotica, or Paradise Music.
D.K.
---
our new baby loves your music especially the Bora Bora. She dances to it.
B.T.
---
I Love Bora Bora! I'm crazy about it!!!the way you handle drums, the drum sounds you get, the tempos are great, the rhythms are fantastic. I can't hear enough of them!!! The drums sounds are TUNED VERY WELL. The wonderful interaction between the different drums. You are a rhythmic genius!! Everyone must love it!!!
I WOULD SAY YOU HAVE THE BEST DRUM SOUNDS I HAVE EVER HEARD FROM A SYNTHESIZER.
IT IS SO RHYTHMIC THAT ONE CAN NOT HELP BUT MOVE/DANCE TO IT!!!! since rhythm is the foundation of
all music, you thus reach every human listener( theoretically).
R.J.
---
One of my favourite albums ever.
L.L.
---
I just wanted to tell you that the Bora Bora cd is FANTASTIC! It's my new favorite cd to dance to, clean to, bake to!, get on the chair and clean my cabinets to, reorganize my kitchen to...well I'll let you know what else this cd has me moving on. I love moving forward like lightning and this cd has me doing it. Thank you for making such a beautiful dance album!
E.C.
---
Hi Iasos!
I started my day here in Sweden with listening your fantastic music!!!
Especallly the "Splash Happy" made me extremely happy and I listened to it several times. I laughed like a child and tears of happiness rolled down my eyes. I really needed that, I think I was guided to listen to that. Maybe it has dolphin-love in it??
M.A.
---
Just bought "Bora Bora 2000". So much fun to dance to and just move around to!
K.P.
---

Download Tracks
for "Bora Bora 2000" album
from ...



Return to "Detailed Listings of our Products"



Web Site: iasos.com
Email:
Phone: +1 415-479-0700

Inter-Dimensional Music
California, Earth
Sol, Milky Way Galaxy