"Illuminated Manuscripts"

Produced by John S. Banks
Music by Fritz Heede

DVD $20
80 minutes NTSC-format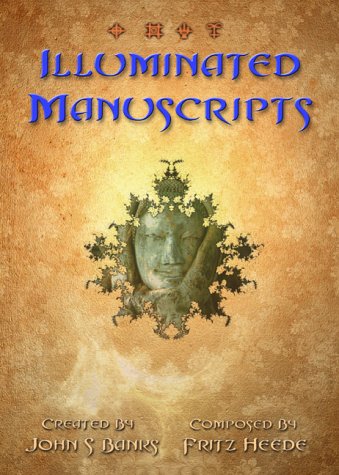 Description
View Excerpt
Get the DVD

Description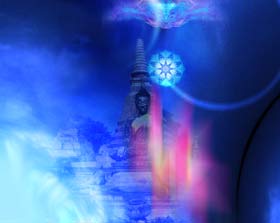 For me, this DVD is an enchanting journey through lost worlds resembling magical forests in England, occasionally revealing sacred illuminated sparkling texts in secret Arabic languages. The music has a mellow mid-Eastern type of feel to much of it. John Banks is such a master of beautiful visual effects, that I (Iasos) am quite in awe of him. In fact, I am somwhat at a loss to describe this DVD, which is so rich in special-effects and organic nature and ethereal blendings, and therefore I draw from what its creators had to say about it:
With original sources drawn from ancient sites, deep green nature and lost languages, Illuminated Manuscripts will appeal to anyone interested in Animation, Nature, Meditation and Fantasy.
The feel of the animations is mercurial with a richly textured and moving series of images that maintain an almost "liquid" feel.
That journey is comprised of landscapes and languages that are often experienced in a dream state of beauty and reflection.
The soundtrack echoes the images with a seamless blend of international music and electronica.
Illuminated Manuscripts invites the viewer into a visual and musical journey that is meant to be interpretive. Places in nature shimmer on the horizon and transform through water and light into new environments and architectures. The impact is dynamic and captivating, inviting the viewer's own experiences of landscape and memory to convey meaning.
The visuals are organic computer animations by John S. Banks and
the sound-track is world/electronic music by composer Fritz Heede.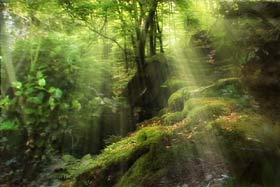 This DVD is divided into 3 main sections:
MAIN, AMBIENT, & FEATURES.
MAIN contains 13 animations. These animations are the core of Illuminated Manuscripts.
AMBIENT contains new & remixed work of a more relaxed and meditative nature. Ambient also contains more abstract imagery. This section is made to work as a meditative trip.
FEATURES includes a gallery of related still work as well as the LOOPS. The LOOPS are 6 moving sections, each of which will repeat indefinitely, until you press the "enter" key on your remote.
The entire DVD is about 80 minutes long.


View Excerpt
of
"Illuminated Manuscripts" DVD
Trailer
(brief 45-second glimpse)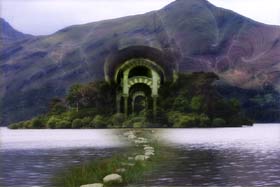 Return to "Detailed Listings of our Products"