"visual music" by Ken Jenkins
DVD 42 minutes $20 NTSC-format


Description


View Excerpts


Awards


Reviews


Unsolicited Customer Feedback


Get the DVD

Description
A 42 minute program by Ken Jenkins. Music by Iasos, John Serrie, Constance Demby, & Tom Moore, and also a new bonus track with music by Steven Halpern. This video is probably the current state-of-the-art for abstract visual beauty as video. Pure symmetry, grace, flowing colors, and ever-transforming beauty-patterns. The uniquely mesmerizing beauty patterns were created in video by Ken Jenkins, and this program is divided into 5 sections.
For the first cut, Iasos composed and synchronized music especially for these inspiring visuals, resulting in "The Fountain of Creation" (now also on the "Realms of Light" album.. In the last cut, Ken created visuals to go with one of Iasos' most famous pieces - "The Angels of Comfort" (taken from his "Elixir" album)..
The 2nd, 3rd, and 4th cuts are by Constance Demby, Tom Moore, and John Serrie, respectively. The 3rd cut is an ecstatic blend of over 7 minutes of gorgeous changing kaleidoscope patterns. This is simply entrancing visual beauty that is ever-evolving - rich tapestries of breath-taking colors - smooth graceful movement. It would be difficult to tire of a video this beautiful! This video is so filled with beautiful patterns that it can maintain fascination/interest even with repeated viewing.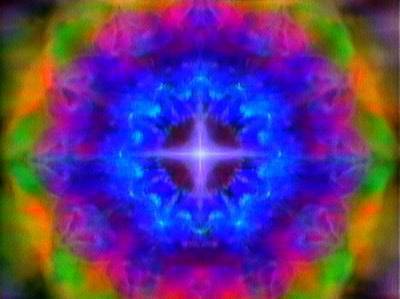 Sample image from the video "Illumination"
by Ken Jenkins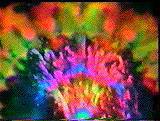 Sample image from the video "Illumination"
by Ken Jenkins

View Excerpts
Extended Excerpts
from
"Illumination"
View here or here
42:12 42:12


Awards
* In 1990 Ken Jenkins won the Crystal Award for Visual Music at the Second International New Age Music Conference. Not only was the award given to Ken because of his program "Illumination", but in fact they even created this award category of "Visual Music" specifically because of "Illumination".
* "Illumination" won the Best Video Award for 1990 at the Aquarian Arts and Media Awards.


Reviews
* BILLBOARD:
"...remarkable collage of sight and sound - a mind bending, ever-changing aurora of astonishing beauty.... A breakthrough beyond any abstract imagery ever committed to videotape, achieving a depth of field and polychromatic radiance that leaves jaw-dropping viewers mesmerized. "New Age synthesists Iasos and Constance Demby each contribute two well-suited soundscapes to this must-see project". (Terry Wood - April, 1989)
* NEW REALITIES:
"Ken Jenkins has succeeded in bringing to life a concert for the eye as well as the ear. It will, in all likelihood, become a landmark in the worlds of art, video, and the New Age"
(John A. Neri - July/August, 1989)
* VIDEO REVIEW:
**** (Four stars). "The music is some of the best and most appropriate I've heard for this kind of program. ...the remarkable visuals...are mesmerizingly beautiful, richly yet subtly colored, and unfailingly fascinating". (Roy Hemming - April, 1990)
* ALTERNATIVES FOR A NEW AGE:
"A spectacular tape for VCR crossed my desk recently. The experience of watching it was so delightful I want to be sure you're aware of it....The visual effects are exquisite and ever changing, with forms and colors beautiful beyond description.... The effect is simply stunning. Combined with the outstanding musical scores, the resulting work is probably the closest thing to what I imagine the angelic realms must be like..... This tape, indeed, brings an exciting new dimension to home video in the New Age." (Lynn Edwards - June, 1989)
* BODY MIND SPIRIT:
"There is an undeniable grace and mesmerizing radiance to the complex and inspiring visuals. Unusually beautiful, Illumination could be viewed more than a dozen times without becoming boring or repetitious". (P.J. Birosik - October, 1989)


Unsolicited Customer Feedback
dear Iasos
Illumination is TRIPLE incredible. What a gorgeous dvd. You guys did a magnificent job with this one. LOVE IT!
Thanks, Love
K.
---
Incredible. I left it on all night. I think I may leave it on every night! Thank you!
V.R.




Return to "Detailed Listings of our Products"