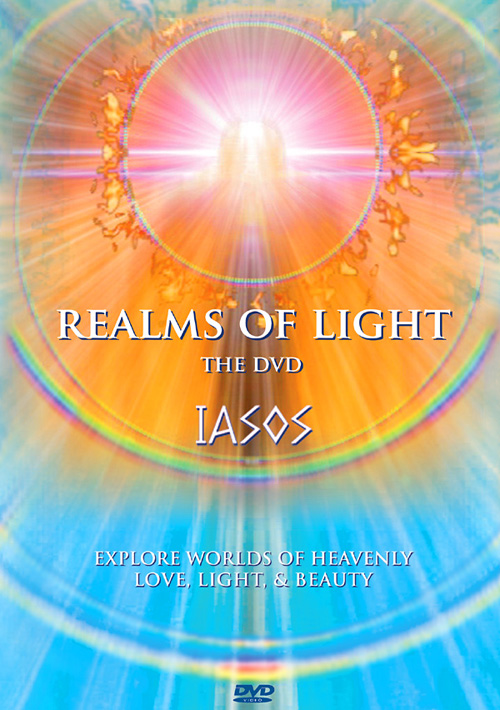 DVD
1 hour 5 minutes
NTSC-format
$22

Description


Video Excerpts
Gallery of Images
Testimonials
Reviews
Customer Feedback

unsolicited comments

Buy

the physical DVD
$22.00

Rent

the DVD from Amazon
$ 1.99 for 7-day rental
Buy

Download

of the DVD
$ 9.99

Description
Iasos has created heavenly visuals to accompany the celestial music on his Realms of Light album. There are visuals for all 8 pieces on the music cd. The visuals are synced with the music with delightful precision. Like the music, some of the visuals are stimulating, and some are relaxing. And all are heavenly, uplifting, beautiful, and celestial.
It took Iasos 4 years to learn video special-effects, and then another 3.5 years to actually create the 65 minutes of visuals to go with this music. But finally.....here it is!
For even more of a sense of this dvd, just watch the video excerpts, or look at still images from this video.
Underlying Purpose
Music is capable of inducing Divine Emotions.
Visuals are capable of inducing Divine Thought-Forms.
When these two work together synchronistically & synergistically,
their combined influence can trigger or "ignite" expanded States of Being.
THAT is the Intention behind this DVD.
Format
DVD
Video
NTSC
Aspect
4:3
Region
All Regions
Sound

* Dolby Stereo
* Dolby 5.1 Surround

Time Duration
65 minutes
Rating
not rated
Effect
Exhilirating ! Uplifting!

Watch any one of the 8 pieces in its entirety
or
Watch an over-view with many "glimpses" of the over-all DVD

....................................................................................................................................................................
Watch any one of the 8 pieces in its entirety

Note:
This looks WAY better on the actual DVD, than it appears here on the net.

....................................................................................................................................................................

Watch an over-view with many "glimpses from throughout the DVD
View any of 6 Video Montages
of Excerpts from the "Realms of Light" DVD
Get the DVD
Download or Rent the DVD
More Info on this DVD
Top

Testimonials

J.J. Hurtak, author of The Keys of Enoch®
"Sacred sounds and images move us from the mysteries of the beginnings of the universe into the sacredness of our divine form. Iasos - in "REALMS OF LIGHT" - opens our eyes to a new reality we share through the voyage of the soul throughout the multiverse!"
Patricia Diane Cota-Robles - founder of New Age Study of Humanity's Purpose
"During this auspicious moment on Planet Earth, Iasos has provided us with visions and music from the Celestial Realms. This gift from On High will assist us in holding the focus of our attention on the wonders of where we are headed as we Ascend into the 5th Dimension. Iasos' DVD "Realms of Light" is a blessing to all of us, and I highly recommend it."
Dr. Norman Shealy - Director of Self-Health Systems & one of the world's leading experts in Pain Management
"REALMS OF LIGHT--The DVD by Iasos, available at iasos.com/get AND GET IT you should. Iasos is one of the great modern multisensory musicians. I have loved his music for at least 35 years. Indeed, it is capable of inducing Divine Thought Forms and expanded consciousness."
(taken from his March 17, 2010 Newsletter)
Ralph Metzer, Ph.D. - Psychologist, Professor Emeritus at the California Institute of Integral Studies; Green Earth Foundation
"Celestial music and crystalline imagery combine for a soaring astral journey."
Jordan Belson - world-famous master of optical special-effect in the film media
"Brilliant!"

Reviews
Mina Olen Magazine ("I AM" Magazine, from Finland) (February 2010 issue)
Reviewed by Erkki Lehtiranta
(Translated from Finnish to English by the author - Erkki Lehtiranta)
Realms Of Light - The DVD by Iasos A Heavenly Journey by Iasos
First of all, I refer to Iasos as one of the great pioneers of New Age music. Iasos' music has been reviewed earlier on in our magazine and Iasos also gave a beautiful concert and workshop at the Mina Olen exhibition a few years ago, when we first saw some fragments of the DVD. And now, after 7.5 years of solid work, the complete masterpiece is at last available. It is based on the futuristic soundscapes of the CD (Realms of Light) released in the beginning of the millenium. Now Iasos has combined the soundscapes with fantastic visuals, which take us to the gateway of another reality - with its colors, angels, nature spirits, symbols, and visions of space. In the layers of beauty, Iasos combines fascinating pastel shades, nature scenes and many kinds of playful effects. I quote Iasos from the back cover of the dvd:
"Music is capable of inducing Divine Emotions.
Visuals are capable of inducing Divine Thought-Forms.
When these two work together synchronistically & synergistically,
their combined influence can trigger or "ignite" expanded States of Being."
The journey Iasos offers in the gardens of space, in the ancient temple of Delphi, and in the majestic landscapes of nature, with the combination of music, is strong medicine for the soul, mind, and heart, as well. For example, watch and listen to The Angels of Purity to get a glimpse of the deep harmony and beauty of the higher realms. Fragments of the DVD can be seen at Iasos's website: iasos.com/dvd

Awareness Magazine (May/June 2010 issue) - reviewed by Michael Diamond
Iasos
Realms Of Light - The DVD
iasos.com/dvd
Since 1975 with the release of "Inter-Dimensional Music Through Iasos" this Greek-born visionary musician and sound sculptor has been one of the acknowledged pioneers of the new age music genre. His compositions have inspired countless listeners, and have been used by NASA and the Laserium laser light show. In the last seven years he has devoted himself to developing the skills as a video producer that he began with his "Crystal Vista" in 1980 - one of the first new age videos. This brand new release is an evolutionary step for this talented multi-media artist. Using the music from his 2001 CD "Realms Of Light ", Iasos has created an experience of sight and sound that transports the listener to a wonderland of light-filled visions. Temples in the clouds, floating colors, mandalas, ancient monuments, star fields, slow motion dancers with flowing silk, tropical lagoons and landscapes from earthly to alien intertwine in an ever-evolving panorama. His use of special effects is mesmerizing, and his affinity for brilliant deeply saturated colors provides what can best be described as eye-candy. One of the most outstanding accomplishments of the DVD is how masterfully the music and visuals are synched with each other. The celestial synthesizer soundtrack also features some haunting and ethereal solo flute work by Iasos. His website ( iasos.com/dvd ) contains a generous number of video clips providing a good idea of the magical vistas contained within. Realms Of Light - The DVD opens a portal to a world you'll want to visit again and again.

CineSource Magazine - reviewed by Dr. Don Schwartz
Iasos
Realms Of Light - The DVD
iasos.com/dvd
Realms of Light: Pure Ecstasy
http://cinesourcemagazine.com/index.php?/site/dschwartz_fa/realms_of_light_pure_ecstasy/
Greek-born, Marin County-based Iasos is a composer, musician, and visual artist. He has been creating and presenting sensational multi-media shows for nearly four decades. Iasos is one of the founding fathers of New Age Music - though the quality of his music transcends the genre. "Realms of Light" is the culmination of his life-long development as an artist. Melding his music with his vision, Iasos has created an utterly ecstatic experience of sound and light. The DVD consists of eight pieces each of which combines Iasos' music and (literally) moving images. A much-needed "33 Second Intermission" divides each of the pieces. A few of the pieces include brief images of a dancer which tend to pull focus from, rather than compliment the overall experience. The DVD offers the viewer a choice of Stereo or 5.1 Surround. Iasos creatively addresses the issue of copyright in a coda entitled "Permission to Copy." After seeing "2001: A Space Odyssey" 11 times at a 'Cinerama' theater, I developed a yearning for a multi-media experience divorced from narrative - to put it bluntly, I wanted a purely pleasurable sensational experience. "Realms of Light" is the first piece I've seen that completely addresses my hunger for a beautiful and transcendent media experience. If I was an old-fashioned, cigar-smoking Hollywood mogul I'd say to Iasos, "I love your stuff, kid. Here's a gazillion dollars. Go, re-author this thing for Blu-ray, and while you're at it, let's release it for IMAX, and, oh yeah, give me some more." Just as I could not have imagined the beauty of "Realms of Light", I struggle to imagine what can possibly transcend it. But if anyone can do so, Iasos can.
www.Iasos.com D.Schwartz , 2010
.....................................................................................

Unsolicited Customer Feedback
It is a perfect "tool" to raise consciousness.
Your DVD is really beautiful, and the "heart" in it is profound!
M.N.
---
Hello Iasos,
Your DVD is FANTASTIC! Really great Job!
J.M.
---
The DVD itself is a masterful marriage of music, visuals, and vision. This is truly an Aquarian piece of art. Congratulations!
E.L.
---
Looks to me that you have created the next dimension in video production.
N.M.
---
Wow ! This is amazing ! Great !
B.X.
---
Phantasmagorically wonderful!
A.P.
---
Rarely if ever do we see visual special effects beautifully and tightly choreographed to uplifting music. Nor do we see music visualized in deeply archetypal terms, nor in refreshing, emotionally unfolding and sensually wondrous progression. Until NOW.
B.M.
---
Wow!
D.B.
---
The visual artwork that you have with your music is perfect, you are a creative master and set such a good creative example. imagine if everyone in the world could communicate and express as you do. Music is such a boundless and forever evoling path to follow and you've certainly followed it in such a great way, its hard to even put words to it to try to describe, but what you are doing is completely 100 percent awesome and right.
M.
---
What a treat and how beautiful! Thank you for dedicating yourself to mastering the video realms, this is a magical experience. The 5.1 surround setting worked great and sounds travel gently around the room. Your ability to express your music in visual format is astounding, the blending with your musical intriquicies is amazing. The combined experience of light and sound brings on the brain juices. I have a friend who is disabled by bi-polar anxiety problems who comes over for sanctuary. He found the experience to be completely relaxing and renewing, as do I. I feel this DVD is a real blessing as I know your focus is to raise our frequencies and your intent has made for a potent DVD. Please consider me standing in line waiting for the Blu-Ray release when that is feasible. love and light,
E.V.W.
---
Great video, Iasos. Absolutely lovely. I found myself going " OH HOW PRETTYYYYY" during certain scenes. Sorry to sound like a wine tipped valley girl, but it touched some basic beauty centers in this manly man.

Your video certainly is capturing spiritual essence.
M.S.C.
---
Hi Iasos: I just wanted to let you know that I have received my Realms of Light video and it is truly a master work. I can totally see why it took 6 years to manifest. I'm glad to have had the chance to study it. I will be doing a new video myself, which will not be nearly as intricate, but will definitely be inspired by your achievement. I didn't want this time to come and pass without expressing my thoughts on how exquisite a job you have done in producing and technically putting this cutting-edge project together. I know that the road was not always an easy one for you. In a world of Tarantinos and Scorsese's, this work many not receive the acknowledgement it deserves in the Hollywood Production community, but know there are people who know the score in production that see the brilliance of what you have created.... Congratulations!
N.M.
---
Wow and more Wow! Elegant, beautiful, delightful, taking me to the high vibrational cosmic fields of dreams. Maya and Margo...sooo beautiful... A very amazing piece.
C.S.
---
I am so enjoying the new DVD and its ability to calm and enhance. Transformative. Your artwork is so great
E.V.W.
---
Hello Iasos:
I got a chance to watch much of your DVD (not the whole thing yet) but it is REALLY BEAUTIFUL!
What incredible work you have done - and what exquisite timing between the music and the visuals.
A.J.
---
Iasos I have watched your Realms of Light DVD twice now over the last two days, and am absolutely amazed. I LOVE IT! It is not only spellbinding, but also a remarkable technical achievement. You have done an outstanding job with this piece of art and I am so impressed.
J.L.
---
Delightful. Luscious. i really loved the travel sequence in Diamond Heart Center. our soul contracts include bringing Spirit into the material realm. no one has realized that clause as literally as u have! PS - my catpanions were also captivated & watched intently. i got the feeling they understood it better than i.
P.M.
---
Iasos,
I received the REALMS OF LIGHT DVD last evening, and sat down today to watch it. Amazing! You have done an astounding job here! Your DVD gave me this very feeling, as though this Universal Mind were at work, creating these stunning image and sound combinations. I can do this for MYSELF, privately. You did this for us ALL, publically, and I thank you.
J.W.
---
Your music and DVD are divine!
D.D.
---
Your DVD is a world wonder and I think it is your MASTERPIECE !
B.X.
---
Dearest Brother: Loved it Love it still loving it. The DVD is your best yet.
E.K.
---
Hi Iasos....Just wanted you to know...I love your film...completely...entirely... It is magical, relaxing, inspiring, other-worldly..and so beautiful! My deepest thanks & blissings
C.B.
---
dear Iasos
what brilliance and light.
you weave an inspiring spirit of the divine imagination made visible.
thanks for sharing your pure magic with me
D.S.
---
Aloha Iasos,
WOW!!! Your new video an absolute Master Piece!!! It is so uplifting, so inspiring. I hope someday to see it on a HUGE theatre screen! I should not be surprised, but am still blown away with every piece. And the music...all I can say is "there must be a God!"
B.T.
---
I finally watched this... All I can say is wow. Fantastic.
D.M.
---
I watched the Realms of Light DVD. Spectacular...absolutely beautiful.
A.G.
---
Integrating live video and photo-quality images gives it a hyper-realism that feels almost like a cleansing of the soul. And the motif of the dancers and their magic veils was a pure delight, incredibly dreamlike.
R.S.
---
Wow! It is amazing! We have a big screen and a dark room, plus the helpful accelerations, and it blew our minds! It is so healing too, I truly felt so relaxed and "cured" when it was over, we were both floating. I like how all the segments have the center too, it kept my chakras in line the whole time, and very focussed.
N.L.
---
Your DVD Light Realms is Beautiful, just beautiful. Truly amazing visuals.. YOU are a master. I found it fluid, deeply relaxing and also uplifting, color~full, intricate in places dreamy in others...
L.A.
---
Iasos, this is without doubt the hottest video ever!
P.W.
---
I think tons of people should see this DVD as it uplifts the spirit and expands our consciousness.
A.F.
---
Iasos , Iasos , IASOS! I finished watching my new Realms of Light DVD last night. I took it slow and watched it in several sessions because I knew I would enjoy it more that way. Actually I feel a little silly even writing to tell you what a great experience it was, because there really is just no way I could ever reduce the whole thing to mere words . Color , motion , light , love . And for me, what has always been the main IASOS FACTOR , the heavenly M U S I C . This DVD was worth the long wait, my friend. I enjoyed it more than I can tell you. I was just transported . I watched it at night in a dark room, like you suggested. I didn't know my Tv set was capable of producing such mind-blowing colors . I can't begin to figure out how you ever made those images and made them do what they do and also how you ever got them to flow so perfectly with the music. It's just so amazing . Anyway, enough already, right? What am I really trying to say? THANK YOU . I LOVE THE DVD . I LOVE THAT YOU"RE HERE ON THE PLANET DOING WHAT YOU DO . SMILE SMILE SMILE! My Very Best to you always-
P.S.
---
I'm an old time fan of yours, buying your first records....
these visuals are flabbergasting ... anyhow
thanks for the high beauty your spreading in this world
that realy needs an overdose or two of gracefull synesthesia as you are producing
W.Z.
---
I love your DVD "Realms of light" and I do very much appreciate your contribution so very "great" to the enlightenment of the whole.
M.N.
---
Hello Iasos, received your dvd and my 10 year old and myself enjoyed viewing it! She really loved the colors and it had a nice flow with the music and images. Beautifully done Iasos!
E.S.
---
It's spectacular ! A really extraordinary and engaging display of light and music! I totally appreciate all the imagination and work that went into developing your imagery! Really spectacular!
K.G.
---
IASOS!!
I am watching your Realms of Light DVD for the very first time right now, and I LOVE LOVE LOooooVvvvvvvE it!!
It _IS_ magnificent!!
More details and comments later -- want to go watch it again, now!
Wow -- you outdid yourself on this one!! :-)
Gorgeous, soul-enriching, joyous, WONDERFUL -- typical Iasos :-)
K.M.
---
Absolutely stunning!
F.D.
---
I played four of the eight pieces for my twin nine year old nieces tonight. They both loved 'em, and every few seconds or so, throughout the four, Morgan would say 'that's my favorite one' or 'I like that one the best'.
D.S.
---
The DVD is brilliant ...brilliant colors, brilliant geometry, brilliant movement, brilliant concepts and of course, brilliant music.
D.B.
---
Thank you - have been watching the "Realms of Light" dvd and absolutely love it.
J.S.
---
It is truly stunning - and it's great to hear your music in 5.1 surround too....! I understand just how much work must have gone into the creation of such beautiful visuals - it must have seemed like an eternity of editing...! I congratulate you on a fantastic piece of art!
K.K.
---
I received your excellent DVD "Realms of Light". I'm really surprised by this creation of Light and Spirituality. Thank you to extract from the Universal substance as beautiful creation.
J.C.
---
It gives a complete picture for the people to help them remind and understand where we come from and what we are.
R.L.
---
I purchased the Realms of Light video yesterday through Amazon and watched it last night. I just wanted to let you know that I found the experience absolutely exhilarating and transformative.
B.W.
---
Hi Iasos, you're DVD "Realms of Light" is great, couldn't take my eyes off the screen, watched in a darkened room as per suggestions, You must be a real whizz with computers along with the others mentioned in the credits to create such a wonderful display of sparkling, swirling Light.
J.F.
---
The last time I wrote you, I had just seen Realms of Light for the first time. I've since watched it about 5 or 6 more times and I still find something new inside of it with each successive viewing. It's similar to what I experience when I watch a Hitchcock or Kubrick film. There's always something new to see or a feeling to experience. How many films or videos can one say that about? Too damn few, that's for sure.
R.C.
---
The DVD was stunningly beautiful and DID alter our awareness toward very loving, playful but lucid consciousness. When I listen, like I am now, I cannot stop the music. I have tears of joy erupt when I concentrate on the music.
G.M.
---
I watched and listened to Realms of light last evening with a friend. Some of the sounds are like an abstraction of the Sistine Chapel in the sense that they feel celestially very inspired. It's a wondrous marriage of color and sound. We both felt really hopeful for what lies beyond this earthly plateau after the experience. It's an extraordinary experience. Thank you!
L.T.
---
Dear Iasos,
I wanted to let you know I was able to watch your DVD last week and it was a wonderful experience.
M.R.
---
Your continually evolving work is magnificent. A true gift to the senses! Thanks!!!
M.L.
---
When I first received it, a few months ago, I immediately watched and listened to one or two cuts, and just went crazy over it. I had told my friend Eric, fellow musician as well, that I was amazed at the quality of the graphics syncing to the music. Very impressive. Then, I had decided I would watch the entire DVD at some future date, when I had more time to really enjoy it and get it to it. Well, I've since added a 3D monitor to my PC setup, and let me tell you, I watched a couple of cuts to see how it would look in 3D. I was even more blown away than the first time I watched any of this! I had no choice but to watch the entire thing start to end.
Your DVD is perfectly tailored to be appreciated in glorious 3D, as if it was designed to be in 3D. Wow! Just wanted to drop a line to let you know how much I enjoyed this masterpiece. Fellow musician, and amateur video editor.
M.W.
---
I just want to tell you how grateful I am for your contribution to this world. You have opened my eyes in many ways You're music is pure bliss. Your experience with your guardian Angel have really had a deep impact on me. I'd love to be a receiver of heavenly music. The moment i saw those small montages on youtube of your visual work, I was totally astounded. Absolutley amazing.
K.S.
---
WOW, the Realms of light dvd is truly awesome Iasos. I watched it with my girlfriend and housemate tonight. You have come a long way brother. Very impressive work. Keep on shining your light Iasos.
M.B.
---
I don't think I've ever in my life, in the world, seen anything as beautiful as your "Realms of Light" dvd. I think it's the most beautiful work of art I've ever seen - in the world - in my life. It is stunning! It is stunning!
J.H.
---
I did buy your realms of light a while ago, 2 copies actually Stunning, Spectactular, amazing, perfect beauty! Loved it all. Especially one part that had cascading (fwwds) Flower/Loofah type objects of pastel color. Amazing Love it all. Everything you make is amazing my friend.
K.S.
---
Since I was already on a Iasos kick, I thought that it would be a good idea to also pop my "Realms of Light" DVD into the BluRay player. I have a new big-screen tv now and a sound bar with a subwoofer. The last time I viewed the DVD it was on a smaller screen with no added sound. So I was really blown away by how much more of a transporting experience watching "Realms" is on more updated equipment. The music just couldn't be any more vibrant. And the colors just EXPLODE. I put the aspect ratio in widescreen even though it is formatted for 4:3. It was like being high, but without drugs!
You just keep getting better and better, Iasos. What a wonderful experience it is for a listener to hear your music. ThankyouThankyouTHANKYOU!
P.S.
---
(Commenting on the 6th track: "The Diamond-Heart Center of Creation") Wow, is all I can say. Looking forward to seeing more..
D.M.
---



Return to "Detailed Listings of our Products"



Web Site: iasos.com
Email:
Phone: +1 415-479-0700

Inter-Dimensional Music
California, Earth
Sol, Milky Way Galaxy