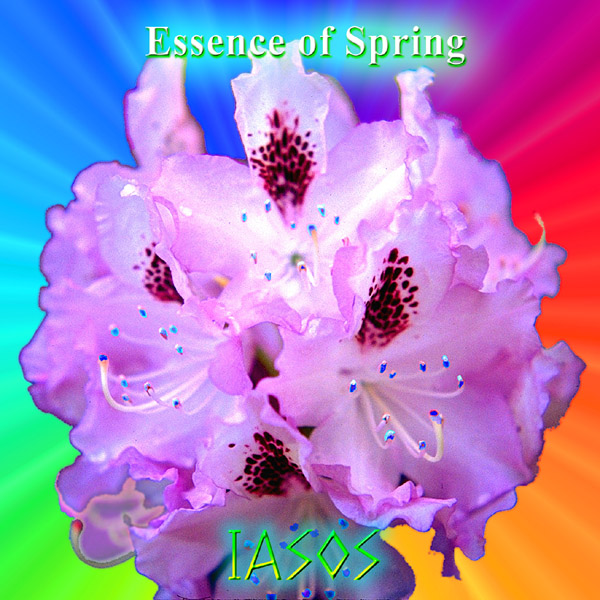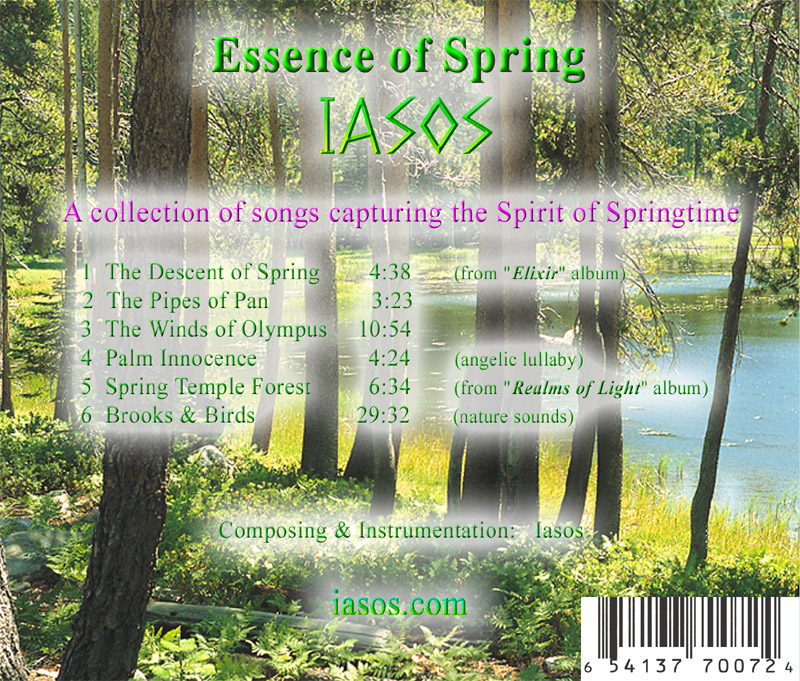 Description
The first half is a collection of pieces that capture the buoyant enthusiasm and optimism of spring-time, when all Life is blooming. These pieces are interspersed with nature sounds between the selections. The music selections are:
The Descent of Spring This piece is about the Goddess of Spring - Amaryllis - coordinating all the nature beings to awaken nature & bring forth another glorious Spring. (taken from the "Elixir" album)
The Pipes of Pan Pan playing his double-flutes (one in each hand) in the woods, followed by fairy laughter.
The Winds of Olympus (extended flute solo on ancient Greek scales)
Palm Innocence This piece is an angelic version of a lullaby. (suitable also for adults wishing to re-awaken their "original innocence")
Spring Temple Forest This piece represents a very sacred ceremony that occurs each spring time in the Elemental Nature Kingdom. At a certain point in time when Spring is at its very peak, a certain forest is selected because of its cathedral-like qualities, and then this forest functions literally as a spiritual temple, where all the nature spirits from miles around gather for a most special ceremony. This gathering includes nature spirits of all sizes - from tiny ones smaller than a pin-head, to cute little fairies, to larger size elves and gnomes, to even larger tree devas, and even huge devas that engulf entire valleys in their radiation. This immense assortment of nature beings all gather together in this one spot at a specially-designated time, for one highly-concentrated purpose: To attune, as a unified group, to the one Universal Source of All Life, and to establish sacred currents of Love and Gratitude, that flow from them to the central Creator, and also flow back from the central Creator to them. For the nature beings, this is one of their most sacred activities, within each yearly cycle. (taken from the Realms of Light album)

Brooks & Birds The second half is a half hour nature recording of the sounds of brooks & birds in the Spring time. This is quite uplifting when played during daylight.
Both the music and the nature sounds have an uplifting effect and are a delightful way to optimistically start the day.

This is an excellent album for attuning to nature spirits & fairies, especially since the Pipes of Pan are immediately followed by the sound of fairies laughing.
Let's Hear it!
A Collage
or audio glimpse of all the songs on Iasos'
ESSENCE OF SPRING music album

Listen
6:28
Unsolicited Customer Feedback
"Blissful... beautiful... Iasos has inspired me for many years with his enlightened music!
A.
---
Who wouldn't like this!?!! It's like a cool mountain spring on parched lips. A banquet when one is hungry. It seems to bring silence to an active mind and joy from the wellspring of one's soul. Thank you for sharing with us.
J.T.
Download Tracks
for "Essence of Spring " album
from ...
Return to "Detailed Listings of our Products"